UPLOAD YOUR FILE &
START
YOUR 3D
PRINTING
Allow the design and functional requirements to take precedence and free yourself from geometrical constraints. Take advantage of the speed, cost and quality advantages of 3D printing.
We GUARANTEE the maximum protection of intellectual property for our customers at no additional cost because we know how important your designs and processes are to your business.
See our NDA to protect your property.

SCAN
Existing products without modification or allow optimization and reverse engineering before printing.

DESIGN
Let us develop the file for your new product acording your specifications.

PRINT
Upload your file and start the printing process.
FIND OUT MORE
ABOUT OUR
PRINTING
PROCESS

UPLOAD THE 3D FILE
Upload your 3d file (stl) and get your offer.

CREATE YOUR ACCOUNT
We need your info so we can send the invoice and ship your item.
WE MAKE THE 3D PRINT
We check your file for errors and print the file if it checks out.

RECEIVE YOUR ITEM
Shipping to your address.
THE ADVANTAGES
OF OUR 3D
PRINTING
Optimal mechanical properties such as impact resistance and ductility can be achieved along with a smooth finish with minimal post-production finishing. Rapid production of prototypes.
LEARN MORE
AREAS WHERE YOU CAN
UTILISE
THE 3D
PRINT
There are no limitations to what a 3D print can become. Countless possibilities, with ideas and results bounded only by your imagination.
NEED ASSISTANCE? CONTACT US

AUTOMOTIVE

DESIGN

HEALTHCARE

MANUFACTURING

EDUCATION
ARCHITECTURE
OUR KNOWLEDGE
CAN
BENEFIT
YOU
Need a new way to think about your design? With over 30 years of experience in the mechanical and engineering industries, we will gladly support you with our knowledge and skills. Have a question regarding your 3D model, or need someone to develop one for you?
FIND OUT MORE
WE DELIVER
RESULTS FOR
OUR CUSTOMERS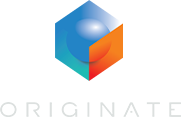 Originate d.o.o.
Kraška ulica 2
6210 Sežana
Slovenia
+386 (0) 40 536 711
info@originate.direct
@2020, ORIGINATE d.o.o. All rights reserved
Made by
normstudio.si
Cookies
On originate we use cookies only for ensuring normal operating of the page.
Confirm